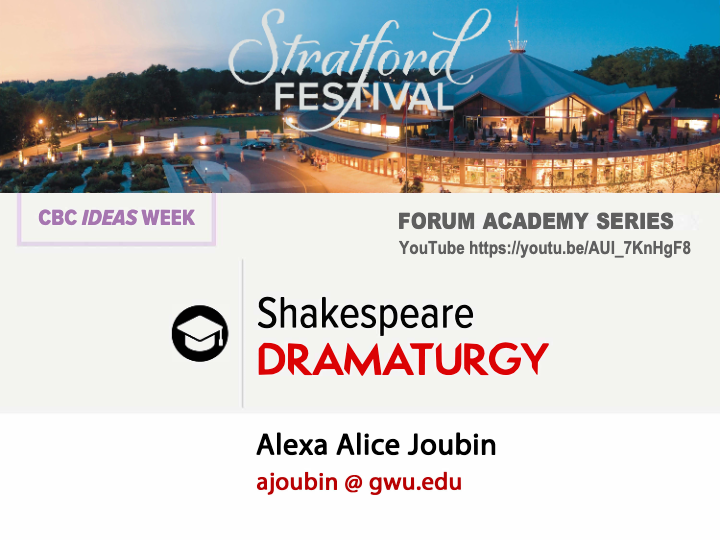 Video on YouTube ::: Table of Contents
01:33 What is dramaturgy?
01:42 Origin of dramaturgy in eighteenth-century Germany
02:49 Dramaturgy in the twenty-first century
03:02 The concept of performativity as a linguistic function
03:59 What are speech acts
05:00 Performativity versus Performance
06:29 Gender and Twelfth Night as Case Study
11:01 Traditional dramaturgy misunderstands transgender characters as "cross-dressers"
11:45 Productions of As You Like It and Hamlet that are rethinking gender
13:38 The importance of dramaturgy
15:08 Conclusion: Dramaturgy changes our understanding of words on stage
What is Shakespearean dramaturgy? Alexa Alice Joubin spoke at Canada's Stratford Festival as part of the CBC Ideas Week, the Meighen Forum, and the new Forum Academy Series.
     This 15-minute illustrated lecture
contrasts eighteenth-century and twenty-firstcentury notions of dramaturgy
explains the critical concepts of speech acts and performativity which is the core of dramaturgy
offers Twelfth Night as a case study in gender and dramaturgy
     Shew argues that traditional dramaturgy often misunderstood transgender characters, such as Viola, as "crossdressers." Once we understand the inherent performativity of all speech acts and all dramatic dialogues, we will be able to re-read plays such as Twelfth Night as a gender non-binary story.
     Text alone does not encompass everything words connote. Dramaturgy counters the text-centric bias that regards gender practices as fixed. Dramaturgy reveals that words as both a spatial and temporal concept and adds nuances to the meanings of the physicality of theatre-making. Joubin shows why everyone needs dramaturgy in their life!
     The presentation is now available on YouTube.