Sunday, August 8, 2021, 1-2:30 pm EDT
The annual Asian Theatre Journal Lecture (co-hosted by the Association for Theatre in Higher Education and Association for Asian Performance) offers a unique opportunity to hear from one of the leading scholars in the field. Sign up here.
Born in Taiwan and now with families on both sides of the Pacific and the Atlantic, I am conscious of my position as an ancillary subject in the diaspora. Now, still looking in from the outside, I embrace my marginalized positions which enable me to have orbital perspectives in a time of hate. In this presentation, I will share how I have evolved as an educator and scholar, how I learned not to turn foreign shores into home turf and lose my edge, and how I passed through and sustained transitory spaces in my writing.
Gender expression that does not match prevailing gender norms is a recurring motif in Shakespeare's plays. Because the Western canon has historically been given various forms of moral authority, Shakespeare has been used by trans-identified performers and feminists as a tool to deconstruct the gender binary and to challenge the institutionalized cis-sexism. Recent studies have shown that trans identities are far from an exclusively recent phenomenon.
Friday, February 19, 2021, 3:00 pm EST
Watch the video online.
How did Kurosawa influence George Lucas' Star Wars? Why do critics repeatedly use the adjective Shakespearean to describe Bong Joon-ho's Parasite (2019)? How do East Asian cinema and theatre portray vocal disability and transgender figures?
The book identifies four themes that distinguish post-1950s East Asian cinemas and theatres from works in other parts of the world: Japanese formalistic innovations in sound and spectacle; reparative adaptations from China, Taiwan, and Hong Kong; the politics of gender and reception of films and touring productions in South Korea and the UK; and multilingual, diaspora works in Singapore and the UK. These adaptations are reshaping debates about the relationship between East Asia and Europe, and this book reveals deep connections among Asian and Anglophone performances. 
Friday, February 5, 2021, 12:00 pm EST
Full video.
How did Akira Kurosawa's films influence Steven Spielberg's and George Lucas's works, including the Star Wars? How do actors reposition their racialized bodies on stage and on screen? How do Korean transgender cinema and East Asian feminism transform gender identities in Shakespeare? Bringing film and theatre studies together, this book sheds new light on the two major genres in a comparative context and reveals deep connections among Asian and Anglophone performances.
Full video here.
Alexa Alice Joubin and playwright Kate Hennig discuss literary star-cross'd lovers spanning the globe and different eras, as well as the politics of these romances within their cultures. 
TV, Radio, and Media Interviews
The American Journal of Chinese Studies 28.2 (October, 2021): 115-130.
The Asian Connection: Newsletter of Sigur Center for Asian Studies, George Washington University, Fall 2018
The Shakespeare Standard, May 28, 2014 (by Jeffrey Kahan)
The Shakespeare Standard, March 9, 2013, by Colleen Kennedy
The Shakespeare Standard, February 16, 2013, by Colleen Kennedy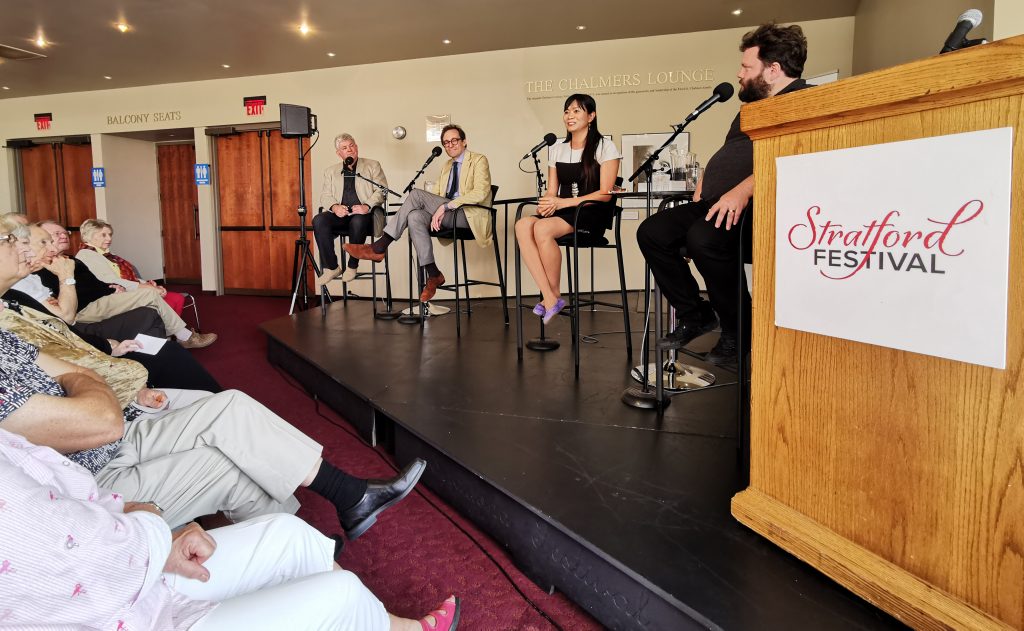 Thursday, May 27, 2021, 10:00 am PDT
Friday, February 19, 2021, 3:00 pm EST
Friday, February 5, 2021, 12:00 pm EST