As an advocacy speaker and a teacher, Alexa Alice Joubin has spoken on diversity, equity, and inclusion as well as on critical race and gender studies on Capitol Hill during a congressional briefing and in such venues as museums in the US and Switzerland, The Washington Post, The Economist, NPR, BBC, CBC, Voice of America, Edinburgh Festival, PEN America World Voices Festival on Gender and Power, Hay Festival (UK), Stratford Festival (Canada), British Embassy in Washington, DC, Shakespeare Birthplace Trust podcast, Foreign Policy, Penta, Folger Shakespeare Library podcast, Fundación Shakespeare Argentina, Royal Shakespeare Company Residency Program, Lincoln Center's Mostly Mozart Festival, DC film festival, Pittsburgh's Screenshot film festival, and other media outlets in the US, UK, Brazil, China, Japan, Korea, Australia, and elsewhere. 
Learn more on GWU Media Relations' website on humanities and arts experts.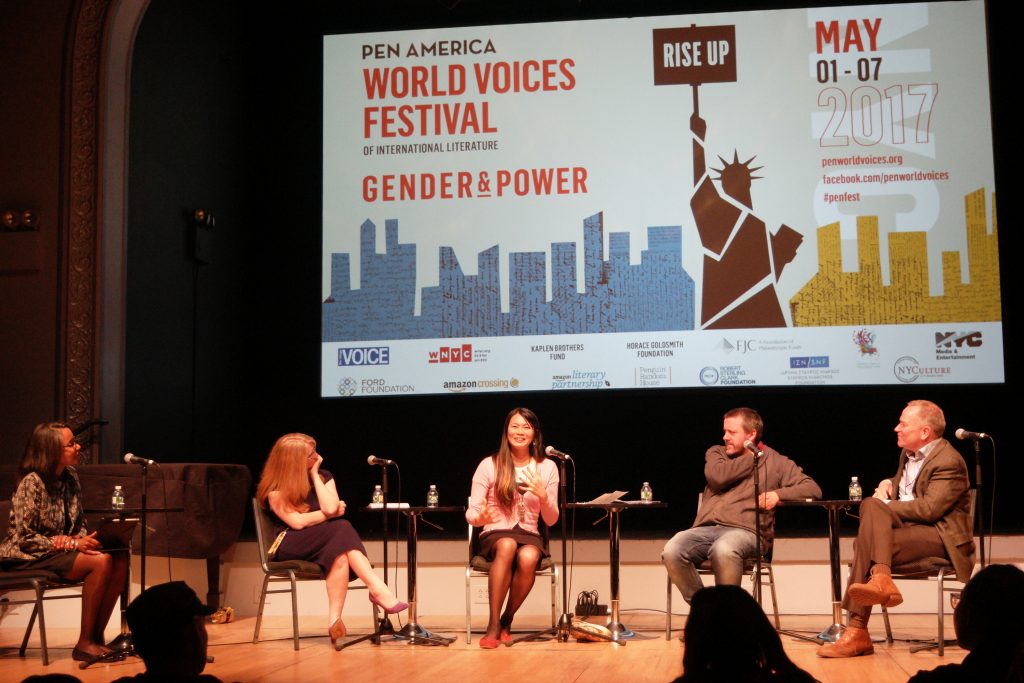 Focusing on "Shakespeare in a Changing World" in the wake of the pandemic's great interruption, this conference will ask how the study and performance of Shakespearean theatre might respond to the rapid and very real changes we are witnessing, while also investigating the relationship of this theatre to the similarly rapid changes of Shakespeare's time. Alexa Alice Joubin will be giving the plenary lecture. The other two plenary speakers are Antoni Cimolino (Artistic Director, Stratford Festival) and Brian Cummings (University of York). The Shakespearean Theatre Conference is a joint venture of the University of Waterloo and the Stratford Festival, and brings together scholars and practitioners to talk about how performance influences scholarship and vice versa. The Festival has announced a 2022 season that includes Hamlet, Richard III, All's Well That Ends Well (the last two in the beautiful new Tom Patterson Theatre), and Wole Soyinka's Death and the King's Horseman, as well as two world premières: Hamlet-911, by Ann-Marie MacDonald, and 1939, by Jani Lauzon and Kaitlyn Riordan.
Gender expression that does not match prevailing gender norms is a recurring motif in Shakespeare's plays. Because the Western canon has historically been given various forms of moral authority, Shakespeare has been used by trans-identified performers and feminists as a tool to deconstruct the gender binary and to challenge the institutionalized cis-sexism. Recent studies have shown that trans identities are far from an exclusively recent phenomenon.
The 2022 National Endowment for the Humanities summer institute is designed to help high school teachers integrate adaptations of Shakespeare's plays into their curricula, with an emphasis on Hamlet and Othello. Participants will study a variety of adaptations, including films, video games, graphic novels, stage performances, music, and young adult novels. We will emphasize diversity through pedagogical approaches that help students connect key Shakespearean themes (such as race, gender, and power) with their own lived experiences.
Friday, February 5, 2021, 12:00 pm EST
Full video.
How did Akira Kurosawa's films influence Steven Spielberg's and George Lucas's works, including the Star Wars? How do actors reposition their racialized bodies on stage and on screen? How do Korean transgender cinema and East Asian feminism transform gender identities in Shakespeare? Bringing film and theatre studies together, this book sheds new light on the two major genres in a comparative context and reveals deep connections among Asian and Anglophone performances.
Full video here.
Alexa Alice Joubin and playwright Kate Hennig discuss literary star-cross'd lovers spanning the globe and different eras, as well as the politics of these romances within their cultures. 
TV, Radio, and Media Interviews
An excerpt of a longer interview sponsored by the Japanese Ministry of Education, January 2023. ::: YouTube Video 
CBC Canadian Broadcasting Company program recorded at Stratford Festival in Ontario, 2023 
November 2020   :::   Video on YouTube
The American Journal of Chinese Studies 28.2 (October, 2021): 115-130.
The Asian Connection: Newsletter of Sigur Center for Asian Studies, George Washington University, Fall 2018
The Shakespeare Standard, May 28, 2014 (by Jeffrey Kahan)
The Shakespeare Standard, March 9, 2013, by Colleen Kennedy
The Shakespeare Standard, February 16, 2013, by Colleen Kennedy