Shakespeare in Hollywood, Asia, and Cyberspace   
Purdue University Press, 2009, 2011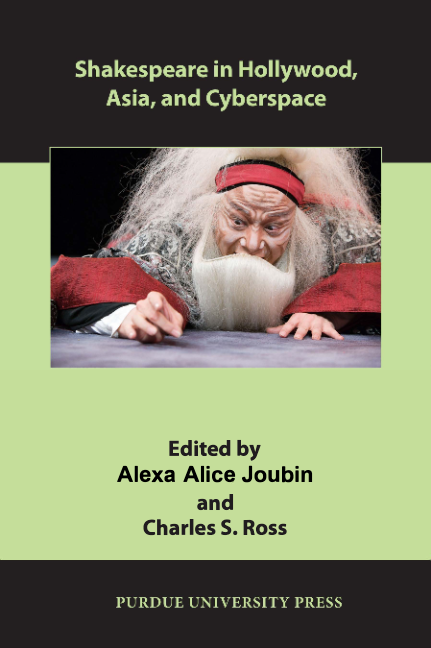 Table of Contents
Introduction to Shakespeare in Hollywood, Asia, and Cyberspace, by Alexa Alice Joubin and Charles S. Ross

Part One: Shakespeare in Hollywood

Shakespeare's Taming of the Shrew and Screwball Comedy, by Mei Zhu

Method Acting and Pacino's Looking for Richard, by Peirui Su
Underwater Women in Shakespeare on Film, by Charles S. Ross

Cultural Anxiety and the Female Body in Zeffirelli's Hamlet, by Xianfeng Mou

Part Two: Shakespeare in Asia

Imagining the East and Shakespeare's Asia, by David Bevington

Kurosawa's Throne of Blood and East Asia's Macbeth, by Yuwen Hsiung

Silence and Sound in Kurosawa's Throne of Blood, by Lei Jin
The Visualization of Metaphor in Two Chinese Versions of Macbeth, by Alexa Alice Joubin

Shakespeare in Contemporary Japan, by Daniel Gallimore
The Tokyo Globe Years 1988-2002, by Michiko Suematsu

Hamlet in Korea, by Meewon Lee
Bangsawan Shakespeare in Colonial Malaya, by Nurul Farhana Low bt Abdullah
Shakespeare, Noh, Kyōgen, and Okinawa Shibai, by Masae Suzuki

Samritechak and Intercultural Shakespeare in Cambodia, by Kevin J. Wetmore, Jr.
Spectres of Hamlet in Colonial and Postcolonial Indonesia, by Evan Darwin Winet
Remembering the Past in the Shanghai Jingju Company's King Lear, by Elizabeth Wichmann-Walczak

One Husband Too Many and the Problem of Postcolonial Hong Kong, by Adele Lee
Part Three: Shakespeare in Cyberspace
Aesthetics of Fragmentation in Taymor's Titus, by Lucian Ghita
Science Fiction, Forbidden Planet, and Shakespeare's The Tempest, by Simone Caroti
Mobilizing Foreign Shakespeares in Media, by Richard Burt
Appropriation and the Design of an Online Shakespeare Journal, by Christy Desmet and Sujata Iyengar
Performing Shakespeare for the Web Community, by Peter Holland
Part Four: Chronology and Selected Bibliography
A Chronology of Shakespeare in Hollywood, Asia, and Cyberspace, by Alexa Alice Joubin

Bibliography of Shakespeare in Hollywood, Asia, and Cyberspace, by Lucian Ghita and Alexa Alice Joubin
Edited by Alexa Alice Joubin and Charles Ross, this book tells the story of adaptations of Shakespeare in Hollywood films, Asian theatres and cinemas, and as video games in the cyberspace. 
     What is entailed in the cultural practice of screening, in both senses of the verb, Shakespeare in transnational audio-visual idioms in the modern times? The past decades have witnessed diverse incarnations and bold sequences of screen and stage Shakespeares that gave rise to productive encounters between the ideas of Asia and of Shakespeare. Akira Kurosawa's Throne of Blood (Macbeth, 1957) and Ran (King Lear, 1985) are far from the earliest or the only Shakespeare films from Asia; around the time Asta Nielsen's cross-dressed Hamlet (1921) was filmed, gender-bender silent film adaptations of The Merchant of Venice and Two Gentlemen of Verona were being made in Shanghai.
     In the other direction, Hollywood and the global economy in general have brought Asian cultures forcefully into the Western cultural register, as evidenced by the mediation and reception of Shakespeare and world cultures on screens big and small, including silent film, television, feature film, documentary, and such media as online games, anime, and YouTube.
Review of Shakespeare in Hollywood, Asia and Cyberspace
     "Alexa Alice Joubin and Charles Ross's [book] is a pioneering, erudite and fascinating work which aims to understand the complex relations between Shakespeare, Hollywood, Asia and the digital age."
     "One of the book's greatest virtues is the considerable number of cultural products it analyses: film adaptations, stage productions in the Asian continent and even on-line video games such as the Arden game."
     "For Joubin, Shakespeare in Hollywood, Asia, and Cyberspace brings to a spectacular close her wideranging research on the subject of Shakespeare in Asia. Her article 'Asian Shakespeares in Europe: From the Unfamiliar to the Defamiliarised' (2008), her co-foundation with Peter Donaldson of two open-access digital video archives, Global Shakespeares in Performance and Shakespeare Performance in Asia, and her special edition of 'Asian Shakespeares on Screen: Two Films in Perspective' (2009), which concentrates on The Banquet – a Chinese film based on Macbeth – and Maqbool – an Indian remake of Macbeth – are only some of her contributions to this field. Her co-edited volume with Ross not only attests to the strength of Asian Shakespeare(s), but also shows how the current global trends that dominate the world influence the reception of Shakespeare. The analysis of Shakespeare in cyberspace is timely because it addresses an area of the corpus of Shakespearean scholarship which is still uncharted territory."
     "Inspired by questions such as 'how do the collaborative processes of signification operate as local stagings of Shakespeare and global locales?', Joubin and Ross begin their collaborative project with the aim of answering them. In the Introduction, the editors are wise to identify the benefit of the impact of the English dramatist in Eastern and Western contemporary culture, instead of bemoaning a possible loss in translation and in the visual medium. The introduction likewise covers the literature review of worldwide appropriation of Shakespeare."
     — Rosa García-Periago, ATLANTIS: Journal of the Spanish Association of Anglo-American Studies 33.2 (December 2011): 181–185.