Martin Luther King, Jr. Award  

George Washington University, April 19, 2023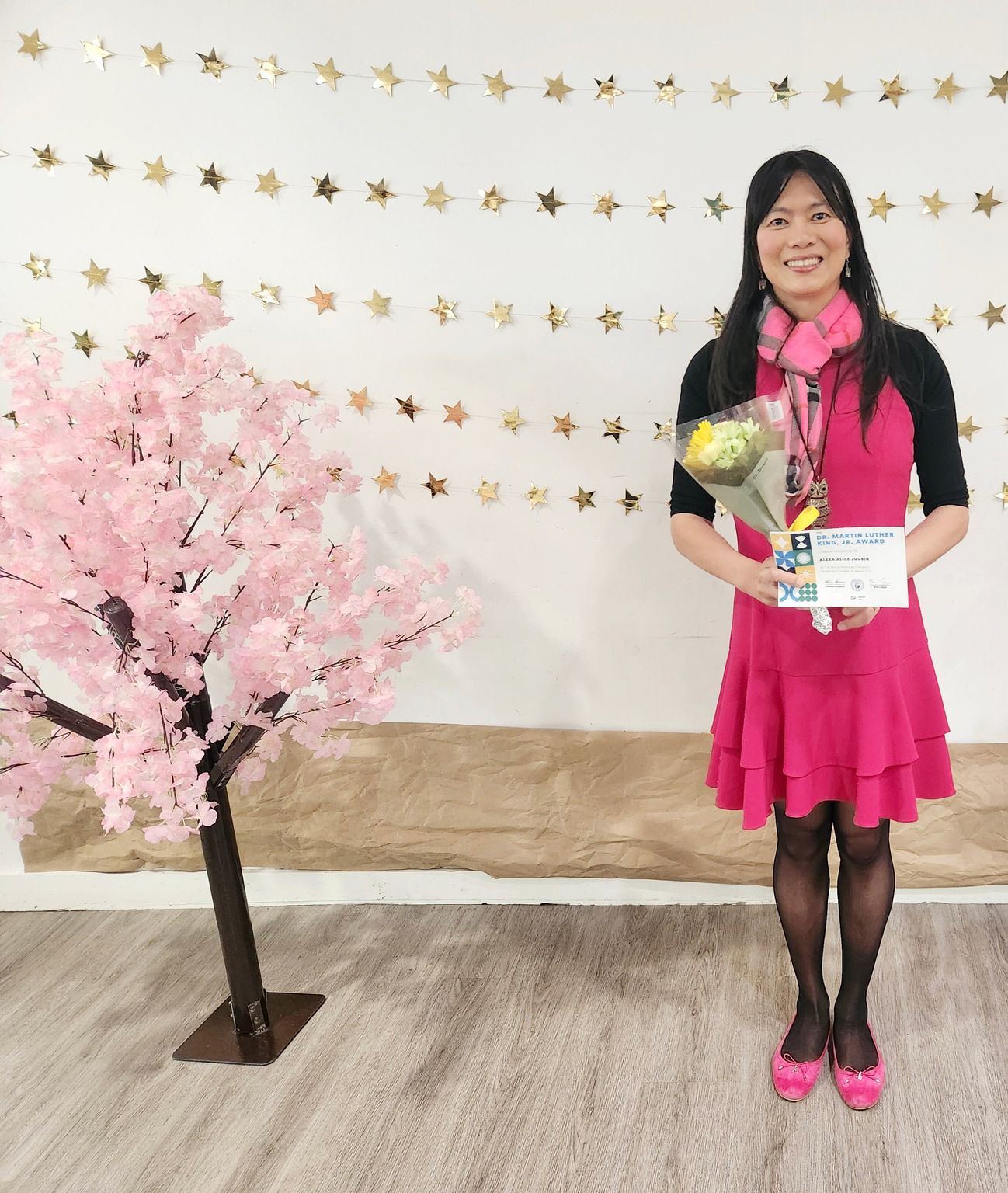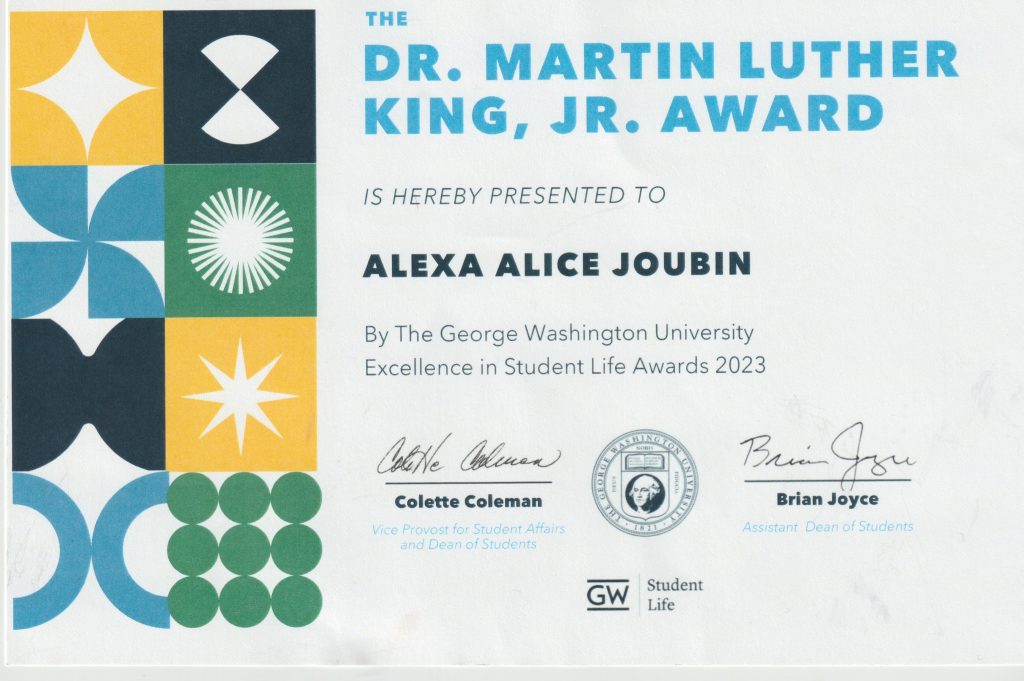 The Martin Luther King, Jr. Award is described by the Vice Provost for Student Affairs Colette Coleman as "George Washington University's most prestigious recognition of excellence that is presented to faculty members who exemplify the values of Dr. King through their leadership, scholarship, advocacy, and service."
Alexa Alice Joubin received the Rev. Dr. Martin Luther King, Jr. Award on April 19, 2023, which recognizes Professor Joubin's "contributions to social justice and inclusive excellence " that exemplify "the ideals that Dr. King espoused," particularly "community-based social justice organizing rooted in non-violence."
The Martin Luther King, Jr. Award is a symbol of appreciation for Professor Joubin's application of Dr. King's philosophy of fostering inclusive pedagogies and communities and "actively fighting racism with historical knowledge." In her teaching, she emphasized the importance of racial literacy and racial justice in interpreting history.
In the wake of the mass shooting of Asian American women occurred in Atalanta in spring 2021, Joubin engaged GW alumni, students, staff and faculty in several outreach events. She also wrote public essays that went viral which critiqued anti-Asian racism. Her essays critiqued anti-Asian racism and the political invisibility of Asian American and Pacific Islanders (AAPI).
Over the years, her "efforts to promote diversity, equity, and inclusion on campus and in the Washington metropolitan area have made a significant impact," wrote Dustin J. Pickett, Director, Multicultural Student Services Center at George Washington University.
"Grateful for" Joubin's "passion, care, integrity, and empathy," the award committee wrote that Professor Joubin's "commitment to eradicating racism has not gone unnoticed." They noted that Joubin's "academic pursuits, demonstrated leadership, unwavering commitment to excellence and her passion for continuous improvement have inspired many around her."
Alexa Alice Joubin's approach to community-based racial justice is rooted in her teaching and outreach effort.
Her widely used open access textbook on film studies and social justice, https://screenshakespeare.org/theory/social-justice/, saves GW students thousands of dollar on textbook each semester, and it is officially recognized by the OER Open Education Resources.
This interactive textbook, free for all, focuses on such topics as analyzing films through a social justice lens; race in / as sound design, film music, film composition, mise-en-scène, set design, and other areas of filmmaking; and sexism in point-of-view shots, framing, lighting design, and other aspects of film production and reception.