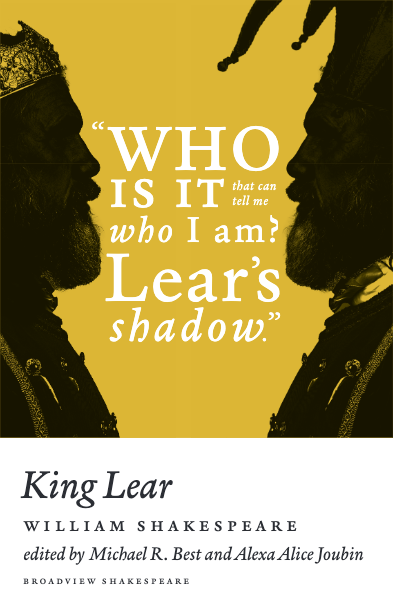 For the full table of contents, click the book cover above
Table of Contents (selection)
Introduction
"Upon a Wheel of Fire": Performing King Lear on Stage and on Screen
Shakespeare's Life
Shakespeare's Theater
William Shakespeare and King Lear: A Brief Chronology
A Note on the Text
The Tragedy of King Lear 
Bibliography and Works Cited
This edition offers an extensive global performance history along with a distinctive "extended" text, taking the later Folio as a starting point and adding the lines that appear only in the Quarto, distinguished by a light gray background. Variations in individual words that are of critical interest are recorded in the margin.
     King Lear is a play for our times. The central characters experience intense suffering in a hostile and unpredictable world. They face domestic cruelty, political defeat, and a stormy external environment that invades them "to the skin." They constantly question the meaning of their experiences as we watch their emotions range from despair to rage to unexpected tenderness and desperate hope as they are rejected, even tortured.
     Lear's daughters, as in a fairy tale, are three strong women. The eldest two vie for sexual and political power, while the youngest, Cordelia, is initially banished because of her plain speaking but then returns in a doomed attempt to restore her father to his throne.
     King Lear has an unusual performance history. It was significantly revised, by Shakespeare or others, between its first two publications and was then succeeded by an adaptation that softened the ending so that Lear and Cordelia survived.
     In our own times King Lear is performed around the world in productions that explore its relevance to contemporary political and environmental challenges.