"Intercultural Theatre and Shakespeare Productions in Asia"  

Routledge Handbook of Asian Theatre, ed. Siyuan Liu. New York: Routledge, 2016. pp. 504-526  :::  ISBN 9781138099319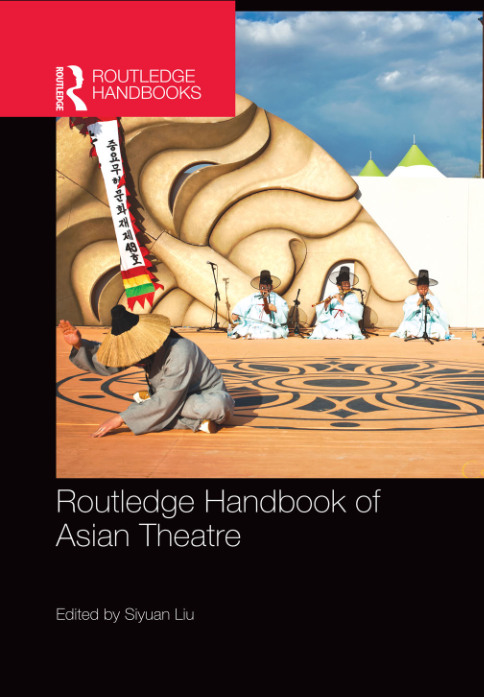 Table of Contents
Introduction by Siyuan Liu
Part I. Traditional Theatre in Asia
Traditional Indian Theatre
Traditional Chinese Theatre
Traditional Japanese Theatre
 Traditional Indonesian Theatre
Part II. Dimensions of Traditional Asian Theatre
Dance in Traditional Asian Theatre
Music in Traditional Asian Theatre
Puppets in Traditional Asian Theatre
Costume and Makeup in Traditional Asian Theatre
Architecture and Stage of Traditional Asian Theatre
Part III. Modern Theatre in Asia
Modern Indian Theatre
Modern Theatre in Pakistan, Bangladesh, Nepal, and Sri Lanka
Modern Japanese Theatre
Modern Chinese Theatre
Modern Theatre in Hong Kong, Taiwan, Korea, and North Korea
Modern Theatre in Mainland Southeast Asia: Thailand, Burma (Myanmar), Laos, Cambodia, and Vietnam
Modern Theatre in Maritime Southeast Asia: Indonesia, Malaysia, the Philippines, and Singapore
Part IV. Perspectives of Modern and Contemporary Asian Theatre
The Beginning of Spoken Theatre: Colonialism and Colonial Modernity
Gender Performance and the Rise of Actresses in Modern Asian Theatre
Modern Asian Theatre and Indigenous Performance
Traditional Asian Performance in Modern and Contemporary Times
Intercultural Theatre and Asian Shakespeare Productions in Asia
India: Shormishtha Panja

Japan: Suematsu Michiko

Chinese language theatre: Alexa Alice Joubin

Southeast Asia: Yong Li Lan
Modern Musicals in Asia
The encounters between Shakespeare and genres and values represented by the icon of China have enriched Chinese-language theatrical traditions as well as global Shakespearean performance history.
     The transmission of Renaissance culture in China began with the arrival of the first Jesuit missionaries in 1582, followed by the Dominicans and Franciscans in the 1630s. Illustrated British travel narratives record British emissaries' experience attending theatrical productions in Tianjin and Beijing during the reign of the Qianlong Emperor (1736-1795), including the mission of Lord George Macartney.
     There are several recurrent themes in Chinese-language adaptations of Shakespeare.
     Universalization, as opposed to localization, has been a popular strategy among Chinese directors and translators. This strategy has produced plays performed straight, with visual and textual citations of what was perceived to be authoritative classical performances (such as Laurence Olivier's versions).
     A second strategy is to localize the plot and setting of a play, and assimilate Shakespeare into the local worldviews. It folds Shakespeare into local performance genres. An example is Huang Zuolin's Xieshou ji (The Story of Bloody Hands, 1986), a kunqu opera adaptation of Macbeth.
     The third strategy involves pastiche, dramaturgical collage, and extensive, deconstructive rewritings. It sometimes changes the genre of a play by accessing dormant themes that have been marginalized by centuries of Anglocentric criticism and performance traditions. The emergence of parody is a sign that Shakespeare's global afterlife has reached a new stage.
     In this chapter, Alexa Alice Joubin argues that Chinese and Sinophone Shakespeares have become strangers at home. The uses of Shakespeare's plays in spoken drama and Chinese opera are informed by a paradigm shift from seeking authenticity to foregrounding artistic subjectivity.
     In 2022, Alexa Alice Joubin published a thoroughly up-to-date assessment of Sinophone adaptations of Shakespearean tragedies from 1987 to 2007, along with English translations of seven Chinese-language plays that were based on or inspired by Shakespeare. 
     Click the cover image to the left to read Joubin's critical introduction. 
     Shakespeare's Hamlet, Macbeth, and King Lear, three of the most frequently adapted tragedies, have inspired incredible work in the Sinophone theatres of Hong Kong, Taiwan, and China for over two centuries as political theatre, comedic parody, Chinese opera, and avant-garde theatre. Gender roles in the plays take on new meanings when they are embodied by actors whose new accents expand the characters' racial identities.